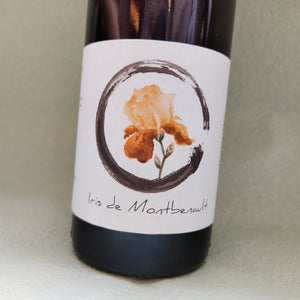 Iris de Montbenault is a natural wine with skin maceration of 2-3 weeks, and the colour is orange. It is a very rare DRY Gewurztraminer only release in best vintage. The wine is very dry, with intense floral notes on the palate, with a touch of spice as finish.

Why is "Iris de Montbenault" so special?
Because of its high sugar levels at harvest, it is very difficult to make a natural Gewurtraminer (slight hint of residual sugar will put the wine at the risk of re-fermentation in bottle because no sulfites are added), but this is one of, if not the best example of, natural Gewurtraminer you can find in the current market.
The story:
When Richard Leroy, the legendary wine maker, tasted this wine, he liked it so much that he asked Christophe if he can name this wine after his little daughter "Iris".

The back label of the wine tells the conversation of between Richard Leroy and Christophe Lindenlaub. It goes as...

When my friend Richard tasted this orange wine for the first time, he tells me:

- (Richard) Do you have a name for it?
- (Christophe) Well, no, not yet!
- (Richard) Then you will call it "Iris de Montbenault".
- (Christophe) Who's Iris?
- (Richard) She is my little daughter.

It is with pleasure that I present you this wine, which will delight your pupils and your taste buds.