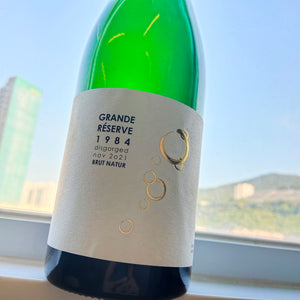 The Grande Reserve Sekt in only made in selected exceptional vintage.

# on lees for 36 years

Grape: Riesling
More about Lauer's Vintage Sekt:
In Saar, making sparkling wine by traditional Champagne method can be dated back to over 100 years ago. Vintage Sekt by Weingut Peter Lauer is only made in exceptional vintages, and remains in contact with yeast for several decades in the bottle. During this time, an intense and noble aromas of essential spices, salts, nuts and dried fruits are developed.
The maturation with yeast has a special effect: they protect the sparkling wine from oxidation. The yeast is only removed during disgorge before the sale. The disgorgement details can be found on the label.
Vintage Sekt by Weingut Peter Lauer has a strong notes of sea salt and coastal air, licorice and walnuts. They offer an extraordinary experience, especially with strong seafood such as sea urchins, or ham and terrines and also fat sausage specialties.

Florian Lauer recommends serving with large red wine glasses for extra breathing to let the wine show its best.